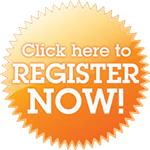 STRUCTURAL DESIGN USING STEEL FIBERS
Delta, BC, Friday, 27th July 2018, 9:30 AM to 3:00 PM
This five hour training session is designed for:
Structural engineers
Ready mix producers
Developers
Contractors
that are interested in learning more about designing and saving money with Helix steel fibers. This course provides 5.0 points for Continuing Professional Development for those registered with BC Housing and Engineers & Geoscientists British Columbia.
We are fortunate to have the leader in steel fiber design, Luke Pinkerton, CTO, PEng along with Samhar Hoz, PEng from HELIX STEEL LLC, Ann Arbor, MI USA present this technology.
This is a must attend event for those interested in learning more about steel fibers and how they can improve the structural performance and durability of concrete.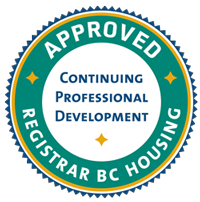 Program
Location: Fab-Form Education Centre, Unit 20, 1610 Derwent Way, Delta BC, 604.596-3278;
Date: Friday, 27th July 2018;
Time: doors open at 9:00 AM with seminars beginning at 9:30 AM. Session ends at approximately 3:00 PM;
Continental Breakfast: assorted muffins and cookies, freshly brewed coffee and tea, fruit trays;
Gourmet Lunch: incredible Syrian buffet, juices, freshly brewed coffee and tea;
Materials provided: Technical information on Helix, software for providing equivalence between Helix and rebar;
CPD Points: 5.0 points for full session with BC Housing and Engineers & Geoscientists British Columbia.;
REGISTRATION: click HERE, deadline is 20th July 2018;
Fee: $95.24 plus GST, for a total of $100.00.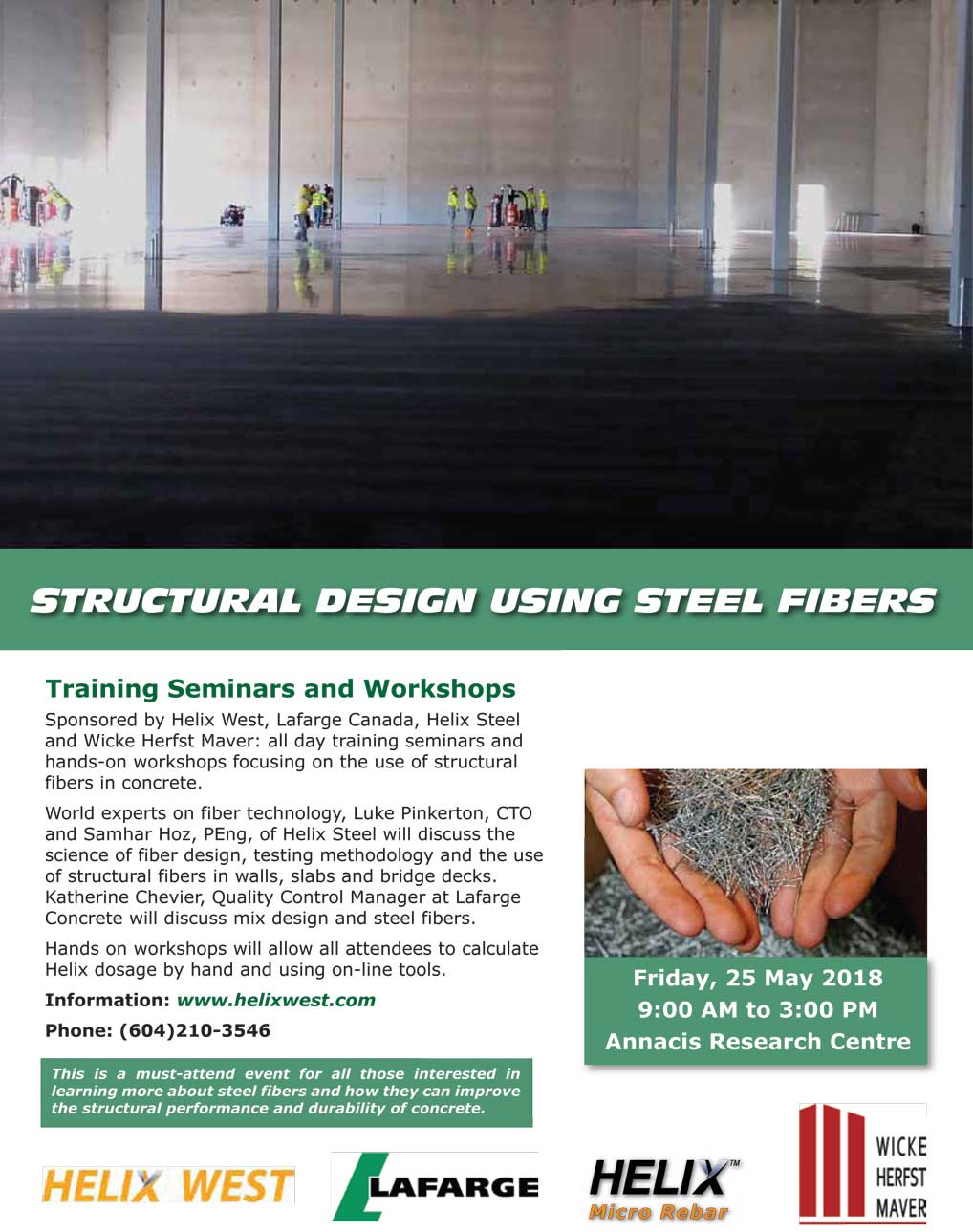 Program Details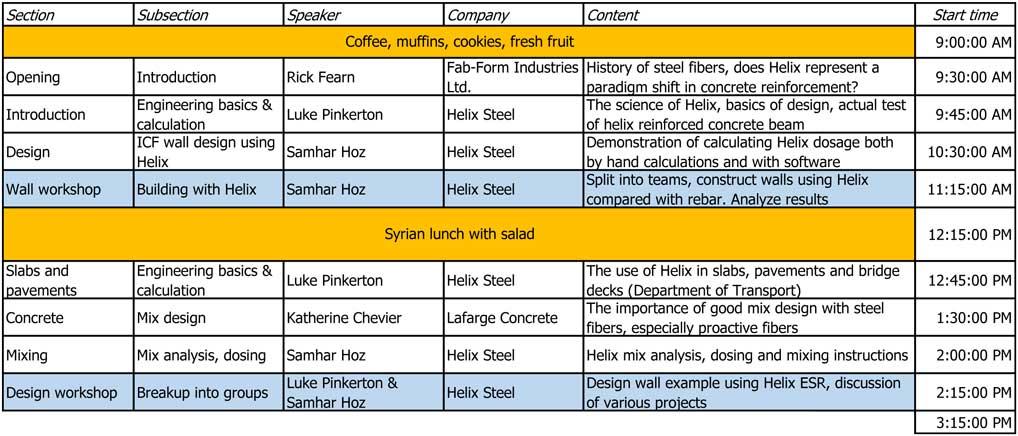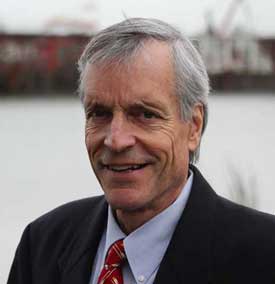 Seminar Presenters
Rick is an inventor and entrepreneur with various inventions related to concrete forms.
He will discuss the invention of steel fibers and the impact they have had and will have on reinforced concrete. Is Helix fiber a paradigm shift in the world of concrete?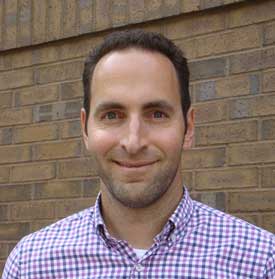 Luke Pinkerton, CTO, Inventor, Helix Steel
Biography
Luke Pinkerton is the CTO and founder of Helix Steel. He has a BS in engineering physics from Hope College and an MS in structural engineering from the University of Michigan in 1999. He earned an MBA degree from Georgia Institute of Technology in 2004.
While earning his MS in Structural Engineering, Mr. Pinkerton worked extensively in the area of fiber reinforced concrete including the early development of Helix and was responsible for the design and fabrication of the first equipment to manufacture twisted fibers. Prior to Helix Steel, Mr. Pinkerton was at General Dynamics as a structural engineer involved with the research and development team assembled to design the US Navy's next generation destroyer class ship – with particular interest in the area of shock loading analysis, blast resistant structure design and test management.
Mr. Pinkerton is a member of ACI and a member of the ACI 544 Committee for Fiber Reinforced Concrete and ACI Committee 332 for Residential Concrete Work. He is a published author in industry related trade journals.
Published Works
ACI Mexico, "A new System – Helix Reinforced Concrete" Feb/March 2011
Concrete International, "Twisted Steel Micro Reinforcement: Advantages of microscopic composites" October 2013
Concrete Engineering International, "Twisted steel micro-reinforcement – advantages of microscopic composites" June 2014
Physics World, "A Concrete Foundation" August 2014
Austria Shotcrete 2015/Spritzbeton-Tagung 2015, "Twisted Steel Micro Reinforcement (TSMR) For Shotcrete" March 2015
Concrete Institute of Australia/Concrete Works 2015, "Twisted Steel Micro Reinforcement: Proactive Micro-Composite Concrete Reinforcement" August 2015
ASTM Journal of Testing and Evaluation, "Measurement of Average Tensile Force for Individual Steel Fiber Using New Direct Tension Method" June 2016
Concrete Institute of Australia's Concrete 2017 Technical Conference, "Unprecedented Thickness Reductions – Twisted Steel Micro Rebar In Pavements" October 2017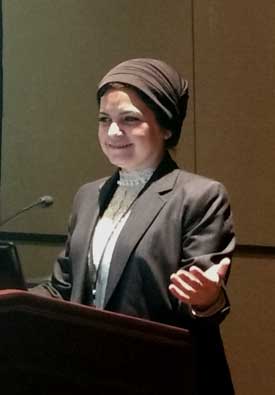 Samhar Hoz is a senior structural engineer at Helix Steel in An Arbor, Michigan. She has a master's degree in engineering management from Eastern Michigan University. Prior to that she obtained a Bachelor of Science in Civil and Structural engineering from Baghdad University, Iraq . She is a LEED Green Associate.
With over 7 years experience in reinforced concrete structural design and construction for industrial and commercial projects, she is well qualified to speak on designing with Helix.
She is a secretary of ACI 332- Residential concrete work sub-committee.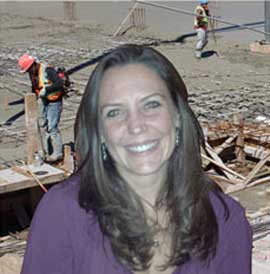 Katherine Chevier, Quality Manager, LafargeHolcim
Katherine will be discussing concrete mix design and steel fibers.
She has worked in quality control for 17 years, first starting with the the Miller Group in Eastern Canada, testing Aggregates and Asphalt - both in the lab and insitu placement. She then worked three years for an Engineering Company that developed asphalt and concrete mix designs, becoming supervisor of the Asphalt QC/QA CCIL Testing Lab and performed QA Management and testing of Aggregates, Asphalt and Concrete paving for Airport, Ministry and Municipality Projects.
Returning to the Miller Group as QC Director for the Transit and Infrastructure Division, she was involved in the dedicated bus line expansion in the GTO Region. The project included underground water work relocation, road expansion, bridgework, retaining walls, CIP culverts and bus stations. In 2013, Katherine moved to BC to become the GVA Quality Manager of Ready Mix for Lafarge Holcim.